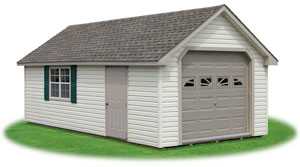 Residential & Commercial Garage Sales
Our portable garages are great for use as an everyday garage, for compact tractors, or for recreational equipment. They also work great as a workshop or storage for that antique car project. Use as a backyard tinker shop, a man cave combination, or many other uses!
We also offer 2-story garages with lofts and inside stairs, as well as custom built garages where you can get custom shelving, work benches, or overhead storage. If you need something special to accommodate an unusually shaped space, or for an over-sized vehicle like a new RV garage, just give us a call for a custom quote that we think, "you'll love".