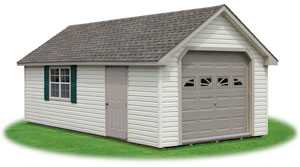 The Popular Cape Cod Garage Line
Custom sided to match your home …
Cape Cod style garages add beauty and property value to your home. They include one 36" entry door, two 24" x 36" windows, and one 8′ x 7′ insulated steel garage door.
Our portable garages are great for use as an everyday garage for your car or pick-up truck. motorcycles, lawn equipment, or other recreational equipment. They also work great as a workshop or a place to work on that antique car restoration project.
They are available in sizes ranging from 12' x 16' through 14' x 40'. Available in the Peak style as well as the Dutch style with your choice of 6 different sidings: Vinyl, plywood backed Duratemp, LP Smart Side, Board "n" Batten, Shiplap Cedar, or Log Siding. Exterior walls built of kiln dried 2×4's spaced 16" on center (with the exception of board 'n' batten siding where the 2×4's run horizontally 24" on center) give you lots of hanging storage space or ample interior shelving room for all those small trinkets.