Greenhouse Garden Sheds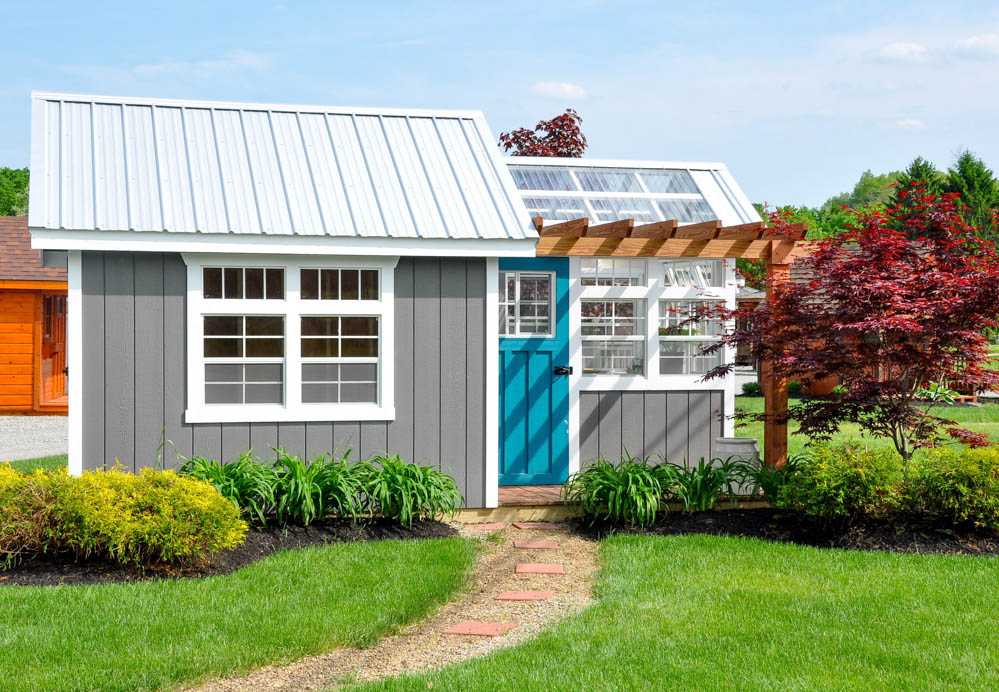 Backyard Wooden Greenhouse Shed, Potting Shed or Garden Shed
Our deluxe greenhouse sheds and potting sheds are a stylish and trendy way to spruce up your backyard landscape. As a result, we specialize in a multipurpose storage shed greenhouse combo solution that saves you money.
Built with the highest quality and care directly from the Amish, these are some of the most attractive premier garden sheds available in our lineup and in the shed industry. If you're in the market for a storage shed, a greenhouse, or both, these combo sheds are a classy solution that you can't go wrong with.
Salem Structures offers 2 different types of Greenhouse Garden Sheds – a standard greenhouse potting shed and a farmhouse garden shed.
For instance, the farmhouse garden shed is the more expensive option, but it also offers way more features in standard form. You'll get carriage style double doors (for riding lawn mower access), the farmhouse rain overhang, a workshop man door, and an interior divider man door to keep the greenhouse separate from the storage shed area.
Our Current Designer Greenhouse & Potting Shed Sizes
We offer our greenhouse garden sheds in a wide variety of sizes from 10'x16′ up to 10'x24′, and from 10'x16′ to 12'x20′ for our farmhouse potting sheds. If you're looking for a smaller solution, our mini greenhouse potting sheds are a great place to start. These are only available in 6'x8′ and 6'x10′, however both come complete with a 4′ painted porch!
Most importantly, as with all of our storage sheds, you're able to customize your new wooden greenhouse shed to truly make it your own. Some of these upgrade options include a flower box, stained pergola (above man-door), double window pergola, and an easy access ramp (available for all wooden greenhouse sheds). You can also choose between various siding colors, shingles or a metal roof (for the farmhouse garden shed), as well as the trim colors.
If you don't see exactly what you're looking for on our website or want to talk about our available customization options, we would love to discuss it with you. Just give us a call at (330) 332-9940 to get a free quote on the size and style of shed you're looking for.


Greenhouse Garden Shed Brochure
---
The deluxe greenhouse shed or potting shed line can be delivered to your yard from Cleveland Ohio to Pittsburgh PA for a small additional fee.See our Financing Options.
---