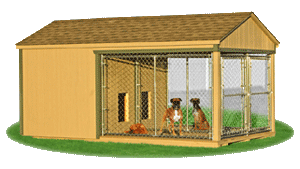 Portable Dog Kennels with or without Dog Runs
When a basic dog house just isn't enough … call Salem Structures
No matter the size of the dog we have a puppy palace to fit each and every one of man's best friends. Like all structures we sell, you can have your dog box or kennel run customized to match your home, and the amenities desired.
Give your animal the perfect home in just the right size, from a small dog box to a large double kennel. Come out and see our inventory!
---
No products were found matching your selection.