Horse Barns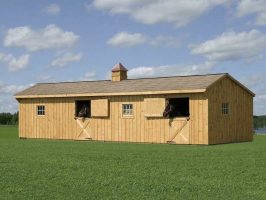 Affordable Amish Horse Barns – Delivered & Constructed
Our Amish craftsmen are part of a tradition that has been raising and caring for horses for decades. Who better to build your Horse Barn, then men who work with, depend on, and understand the needs of horses on a daily basis?
Are you shopping for a high-quality horse barn that is both durable and portable? Look no further! Our selection of shed row horse barns, all expertly crafted by Amish builders with years of experience.
These horse barns are designed to provide comfort and safety for your horses, with sturdy construction and a range of customizable options to suit your specific needs. Plus, with their portable modular design, you can easily move your barn to a new location as needed, giving you the ultimate flexibility and convenience.
Whether you're looking to start a small horse farm or simply need a new reliable shelter for your horses, our shed row horse barns are the perfect solution.
Not only will your Horse Barn look great, but it will be designed and built to meet your horse's needs. Customization of your horse barn includes virtually any layout, combining run-ins, tack rooms, and enclosed horse stalls.
So why wait? Browse our selection today and find the perfect barn right now. Call Salem Structures at (330) 332-9940


Printable Horse Barn Models Brochure
---