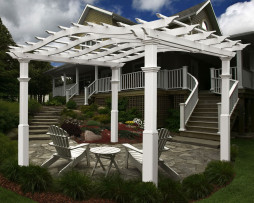 Wood or Vinyl Pergolas & Pavilions – Add a Touch of Class
Pergolas are are an excellent addition to the look a quality feel of your property. They not only look great, add a touch of class and elegance to gardens, deck areas and pool-side patios but they also make a great focal point for entertaining events.
These gorgeous backyard accessories are designed to bring nature and beauty into your garden and/or accent your home. Quality construction and classical styling highlight these aesthetically pleasing decorative yard pieces, which are truly, works of art. Contact Salem Structures for more ways to compliment your outdoor living lifestyle.
Our Luxcraft Pergolas and Pavilions are a perfect way to enhance any Pool or Backyard !
Our Trained staff at Salem Structures will be there to assist you in Any way possible !
5 Reasons Why Should You Buy From Salem Structures Luxcraft
#1 Our Vinyl Low Maintenance PVC
We use vinyl containing recycled content for a minimal
environmental footprint
#2 Stainless Steel Fasteners
All luxcraft products are assembled with Stainless Steel
hardware for optimum durability.
#3 Attention To Detail
Our craftsmen don't cut corners! We pay attention to Detail
that takes our Structures to The next level, That also gives us
the cutting edge against our Competitors
#4 Freestanding Residential Pavilions
A luxcraft pergola post, beam and brace system makes it rigid enough
to be completely freestanding. This eliminates any Headaches and
allows you to have the Backyard of your dreams !
#5 Made In The USA
Luxcraft pavilions are made in Ohio in the heart of Amish Country
by skilled craftsmen in our 56,000 square foot shop. Each product is
inspected before it's allowed to leave the shop
---