Poly Patio Benches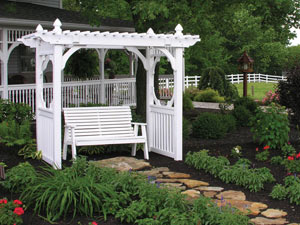 Durable & Stylish Patio Benches by LuxCraft®
Our poly patio bench line is guaranteed for life. Transforming your porch, front lawn or backyard garden into a serene and tranquil oasis is a perfect way to escape from the hustle and bustle of city life. Whether you are enjoying quality time with your spouse or watching your children play in the yard, a sturdy porch bench is an excellent addition to any outdoor space. LuxCraft benches are the perfect choice to make your porch, patio, or garden more hospitable and functional, without breaking the bank.
In comparison to metal or wood furniture, LuxCraft outdoor furniture is made from recycled plastic. It's an ideal ecological option. Despite your best efforts, traditional patio furniture is susceptible to damage from natural weather elements and UV radiation. Wooden furniture swells when wet, and hot temperatures can cause it to become misshapen. In contrast, poly lumber furniture retains its shape, strength, color, and appearance over time. This means you can enjoy your outdoor patio furniture near Youngstown Ohio, without worrying about storing it away to protect it from damage.
Our fade resistant POLY benches never rot, chip, splinter, or require maintenance …
In addition to durability, choosing LuxCraft outdoor furniture is an environmentally responsible decision. Made entirely from recycled plastic, you can take pride in knowing that your purchase is contributing to reducing plastic waste and saving trees. LuxCraft products are a quality investment that does not require you to compromise on longevity or functionality. With a lifetime guarantee, you can be confident that your investment will last as long as your house or longer. Choosing outdoor furniture made from recycled plastic is a wise, sustainable, and long-lasting investment that offers excellent value for your money.