Patio Table Sets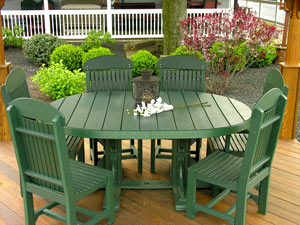 Outdoor Patio Tables & Accessories That Endure Time
Enjoying dinner together with the entire family can be a fun way to relax after a tough day at work. You can convert an ordinary family dinner into a special and memorable occasion. Simply opting to eat outside on your poly patio table changes the mood. There's a cool summer breeze outside, and a starry night sky with lots of laughter. Memories ready to be made in complete style and comfort!
Opting for a dining collection made out from recycled plastic is the simplest and most elegant way to enjoy the outdoors. You no longer have to spend a small fortune maintaining your steel or wood outdoor furniture. No need to worry about UV rays, humidity, rain, snow, or frost. These are the benefits of our durable plastic Outdoor Patio Dining Table Sets and patio outdoor furniture.
These gorgeous tables will never rot, chip, splinter, or require maintenance… think of the time & money saved!
Outdoor Patio Furniture is not just about functionality and utility. The right colors, designs, and finish can make a huge difference to the overall aesthetics of your home's outdoor space. Placing benches or swings with a dark wood finish with a backdrop of colorful flowers will make your lawn or garden a cozy place. Relaxing with your spouse, kids or entertaining neighborhood guests. On the other hand, brightly colored yard swings will encourage your kids to get off their electronic devices and spend more time outside.
Our LuxCraft® plastic patio tables are designed to withstand exposure to the elements. They retain  their color, appearance, and finish much better and longer than wood or metal furniture. Furthermore, resistance to insects, rot, and mildew will ensure you don't need to worry about risk of damage to your outdoor furniture.
Give yourself a great excuse to bring the outdoors back into your life. Opt for poly outdoor patio tables and enjoy some relaxing picnics on weekends with your entire family. Invite a few friends to enjoy some spring barbecues and pavilion parties without having to worry about them being damaged from rough use. This furniture is heavy & tough!
In conclusion, you'll also get a lifetime guarantee on this 100% recycled plastic patio furniture. A little extra money upfront for real quality makes for a smart and economical addition to your home's exterior finish.

---