Chicken Coops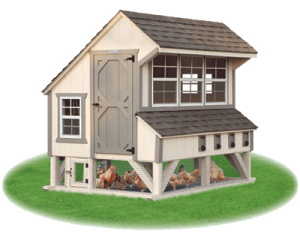 Chicken Coops – All Sizes & Types
We build functionality and beauty in to all our coops …
Free Ranging Chickens – Raising chickens is a great family project! Teach your children or grandchildren how nature works.
Don't see exactly what you're looking for? Call Salem Structures (330) 332-9940 where we can quickly assist you in finding the perfect chicken coop solution tailored to you and your property.
Predators, like raccoons and foxes like to dig right at the spot where the coop meets the ground. You can lay galvanized wire mesh on the ground, along the sides of the coop to keep them out.
How to Make Your Chicken Coops Predator Proof
With our chicken coops no predator will been able to get to your chickens inside, and that includes snakes. In the Salem, Ohio area there are lots of wild critters though that would like to dine on chickens. But, don't forget to close the chicken coop door! Even our superior chicken coops can't protect your prized hens if you forget to close the coop door at night.
Most digging predators can't dig enough in one night to make it into the coop. Just put the chicken coop on level ground, and keep an eye out for any developing holes. Just move our portable chicken coop if you see a hole beside it.
Free Local Delivery Up To 10 Miles "On select Models" – Call us today  (330) 332-9940
Due to the big demand in Chicken Coops please call the office for an updated stock list.


Chicken Coop Models (Color Brochure)
---