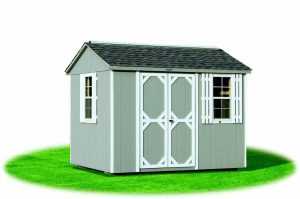 Amish Built Quality at an affordable Price
Our affordable line of storage sheds still maintains high standards …
The peak style is one of our most popular buildings. Available in sizes from 6' x 6' through 14' x 40' there is a size for most needs. The architecture of this building will fit almost anywhere.
Exterior walls built of kiln dried 2×4's spaced 16" on center (with the exception of board 'n' batten siding where the 2×4's run horizontally 24" on center) give you lots of hanging storage space or ample interior shelving room for all those small trinkets. Double top wall plates interlocked at the corners provide sturdy straight walls.
There is a choice of 6 different siding types: Vinyl, Plywood backed Duratemp, LP Smart Side, Board "n" Batten, Shiplap Cedar, or Log Siding. Wood windows are standard with the Board "n" Batten, Cedar, or Log siding. The peak style features a 5/12 roof pitch with lifetime dimensional shingles.
The doors and/or windows can be placed in either the gable or the eave side of the building. When the entrance is in the gable end of the building there is an option to have a 16" roof overhang over the gable in place of the second window. Sheds that are 6-feet wide through 10-feet wide feature a 6'4″ wall height. Those 12-feet and 14-feet wide feature a 7′ 5″ interior wall height.
Peak style also available in our economy sheds.